Geographical coordinates:

29° 02′ 13″ North, 119° 49′ 48″ East
Yiwu is located in the eastern of China(260Km from Shanghai)with an urban area of 1105 sq km.Yiwu's population stands at an estimation of 2 million, with 60% of the population being male.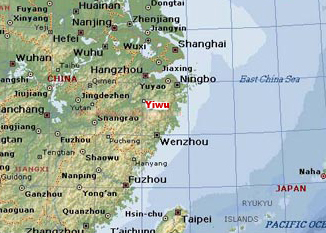 Climate

Yiwu belongs to Subtropics monsoon climate,four clearly distinct seasons, has an average daytime temperature of 17.2°C.And average annual precipitation 1403 mm, average humidity 70%.
In the summer, the weather is hot in Yiwu, with temperatures reaching 40°C. In the winter,temperatures reaching -6°C, with the humidity averaging over 60%.
So Spring and Autumn are the best season in Yiwu, with a comfortable temperatures 23°C.