Cups are no longer ordinary water containers. Rendered by the wisdom of designers, cups more and more become a smallware showing personality and fashion. For this reason, people usually say that the cups also have ranks. " Now if you are doing business aimed at young people, the commodity must be with different characters and creative ideals. The smaller the product is , the more attention should be paid to details,even a small cup is no exception," Introduced by a International Trade City dealer.
"Personalized cups also have several kinds. They differ from the designing key point focused on. Some emphasis on the overall shape. Now many export cups in Yiwu market are perfect in shape. For example, this cartoon cups. Basically every year, there will be a series of new cartoon cup put on our shelves.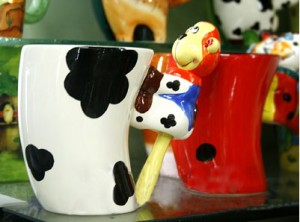 Some designers paid more attention to details. From material selection to customized pattern on cups, all this are delicate elegant. Sometimes only a small detail is able to highlight the theme of the cup. For instance, the ring handle cup which is very popular in recent years is this style. While other cups are entirely designed with fancy and give you an eye-poping effect. These cups are the most popular with young people and also the the best seller in my shop." The dealer talks about his cups excitedly.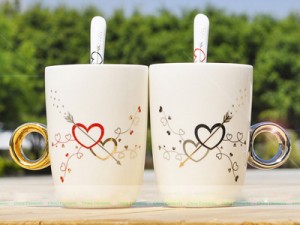 "Couple cups are generally the most susceptible to the designer's inspiration, you see this is last year's lovers cup. The pure white cup body, distinctive cup handle, plus Jimmy style of calligraphy and painting, express the love theme immediately.
"This style is of this year. It put emphasis on the cup handle, You may put the lovers couple together, like lovers walking arm in arm, very nice and sweet."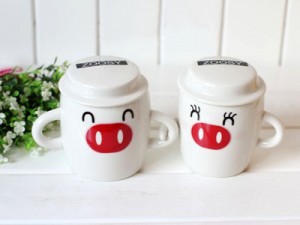 Dealers said that the most interesting design of the cup handle will be this small cup with black handle, while the handle happened to be the black cat's curled tail. This novelty design is very cute and let people fondle admiringly.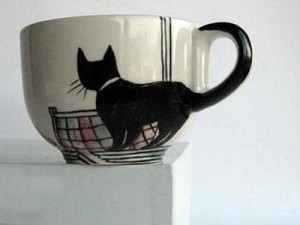 In addition to the novelty design of cup handles, the design of cup lid also wins a lot of praise, like this one, floret umbrella shaped lid cup. Pattern on the cup body are two couples and the lid is designed as a floret umbrella. Wow! Using  these beautiful designed cups, maybe drinking 8 cups of water one day is absolutely no question!
View more please click Yiwu wholesale