Yiwu International Trade City is the world's largest distribution center for Christmas supplies. Most of the world's two-thirds of Christmas products, including Christmas trees, Christmas hats, greeting cards, ribbons and decorative lights, do not come from Rovaniemi, Finland, Santa Claus's "official hometown", but from Yiwu. According to incomplete statistics, there are currently over 800 Christmas supplies stores operating in the International Trade City.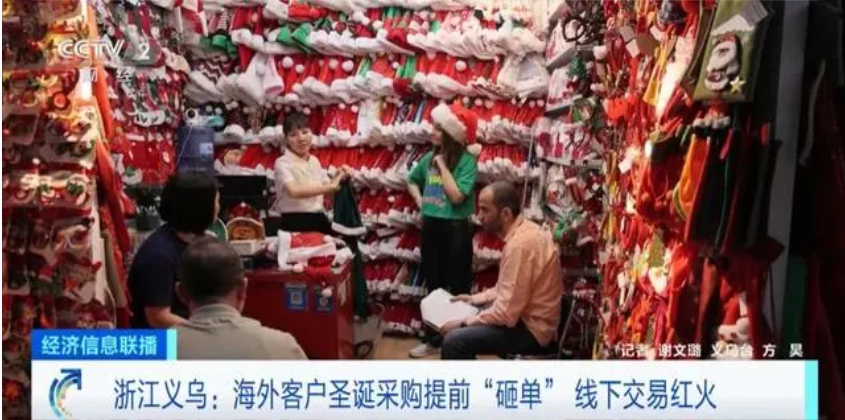 In the stalls in the District 1 of Yiwu International Trade City, several buyers from Lebanon were shopping for Christmas clothes and hats. It takes less than ten minutes to select products, negotiate prices, and close the deal.
According to Yiwu Customs statistics, in the first quarter of this year, Yiwu City exported 100 million yuan of Christmas supplies, a year-on-year increase of 62.9%; of which, exports to Latin America were 40 million RMB, an increase of 114.8%.
As a veritable "World Christmas Product Base", Yiwu exports more than 20,000 Christmas supplies to more than 100 countries and regions every year: from January to November 2017, Yiwu City exported 1.41 billion RMB of Christmas supplies; in 2018, Yiwu City's Christmas supplies Exports of supplies were 2.265 billion RMB, a year-on-year increase of 18.12%; from January to October 2019, Yiwu City exported Christmas supplies totaling 1.92 billion RMB, a year-on-year increase of 23.9%. This growth rate was 10.6 percentage points higher than the same period last year. These exports do not include popular Christmas gifts such as toys, cosmetics, small appliances and bicycles.
If you are interested in Christmas products, please feel free to contact us for more details.
Our company, Amanda Intl Group, develops based on Yiwu market and has more than 15 years experience in foreign trade business. Our company mission is to be our customers' China buying office.
We offer one stop export service, mainly including sourcing, purchasing, consolidation, inspection and shipping.
Sourcing: when you are here with us, we will arrange staff accompanying you in the market to gather the basic products information and make it into quotation for your reference.
Purchasing: After you confirmed the order, we will ask 30% of the total products value as deposit. We will sign contracts with suppliers with detail information and delivery time.
Consolidation: We will collect the products to our warehouse when they are ready.
Inspection: After the consolidation, we will do inspection in the warehouse. Normally we open 30% of the cartons to check the quantity and quality. We will take pictures and send to you for confirmation.
Shipping: After getting your confirmation for the goods, we will arrange the shipping. We can arrange LCL (Less than one container load ) and FCL (Full container load) and air-cargo or courier. We will prepare all documents (invoice and packing list, BL and CO) for our customers and export in the name of Yiwu Amanda Expo&Impo. Co., LTD.