Yiwu ladders
Yiwu ladders located in Yiwu China international Trade City District 2, and the second floor.
With the development of the society, ladders are widely used in our daily life. When people want to decorate their rooms, a ladder is very necessary for them to get higher. When someone wants to hold a big party, a ladder could be always making the place feel better.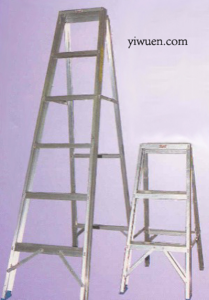 The material of Yiwu ladders are made of aluminum、steel and so on. Yiwu ladders are of high quality and stamina. They are widely used in our daily life, especially in some construction.
All in all, the advantages of ladders more than a word. As long as you use it, you could know what it is. Yiwu ladder have many designs. Rail pedal lift、steel tube pedal lift、folded steel pedal ladder、aluminum ladder and aluminum pedal safety ladder are the signal ladders of Yiwu ladders. They are very convenient for you to climb higher and get the higher things.
The step of the ladder can also add higher as you wish. If you would like to know more information about Yiwu ladders, please feel free to contact us, we would greatly welcome your inquiry!