Yiwu radio
Yiwu Radio and Television Station is the only institution that undertakes the designing and broadcasting of radio and television programs. It is the same background in the foreign courntries. As a general rule, the freguency of the FM and AM will change with the region in addition to the shortwave. In this case, Yiwu radio can also do in Rome as Rome does.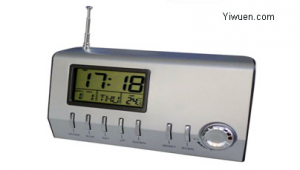 There are a lot of radio suppliers in Futian market located in the international trade city of the 2 district on the third floor. Yiwu radios are made by high quality plastic and eletronic components. Some radios with 1 paid earplug are very convenient to carry and can be placed in a pocket. Some Yiwu radios with a liquid crystal surface can display the date and time. It is best choice and best discounts for the sort of people out of home to listening to music and news.
Please feel free to contact us; we have further information and first-rate service for you.