In order to meet the growing leisure needs of merchants from all over the world. A variety of different styles of hotels were built up near Yiwu Futian Market. There are beautifully decorated hotels and simple hotels with local characteristics.These hotels to a large extent meet the varied needs of consumers. The well equipped hotels represent the good image of this trade city by offering home-like warm services for guests who travel a long way to do business here.
Hotels Near Futian Market District 1: Yiwu Futian Business Hotel
Yiwu Futian Business Hotel is located to the opposite of West Gate of District 1, Futian Market, China Yiwu International Trade City, in the Jewelry & Accessories Street, only 50 meters away from the International Trade City. This is a distinctive modern three-star business hotel with rational layout, unique design and luxurious interior decoration, which make it an ideal place for shopping, tourism, recreation and business conferences.
Yiwu Futian Business Hotel has a variety of 85 suites. Deluxe suites are equipped with LCD TV, LCD computer, coffer, refrigerator etc. Business rooms are equipped with LCD computer, refrigerator and air conditioner etc. Luxury standard rooms and single rooms are warm and comfortable, each room is equipped with gigabit broadband Internet access, and 24-hour free video on demand. The second floor restaurant can accommodate hundreds of people dining. The restaurant features special Jiangxian food and offers buffet breakfast, drinks and western desserts, is the best place to entertain guests. The hotel is also equipped with sauna, foot bath, chess and free mahjong facilities.
Menu of Rooms:
Business Room: ¥268
Single Room B: ¥358
Standard Room: ¥368
Single Room A: ¥368
Business Standard Room B: ¥408
Business Single Room A: ¥408
Business Standard Room A: ¥458
Luxury Suite: ¥618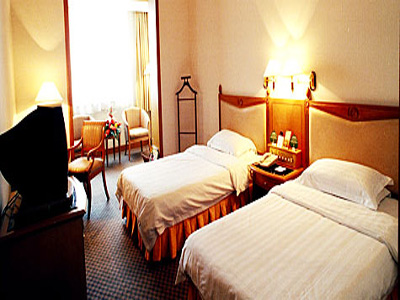 Yiwu Futian Business Hotel
More Yiwu Hotels:
Yiwu Tianheng International Hotel
Yiwu Best Western Premier Ocean Hotel